Oct 30, 2018
Manual VELUX® Blinds vs Electric VELUX® Blinds
It is the ultimate battle between the Manual VELUX® blinds and Electric VELUX® Blinds, both high quality blinds but what are their main differences (aside from one being electric) and who are they best for?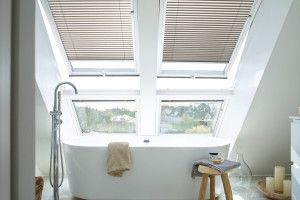 M
anual VELUX® Blinds
Ah, the manual blind, with hassle free installation thanks to the VELUX® Pick&Click!™ system and simple easy to use control bars, you can position your blinds with ease. The manual blinds are the best option for roof windows that are easy to reach; to operate you simply use the control bar positioned at the bottom of the blind to slide up and down.
We stock manual blinds in Blackout blinds, Roller Blinds, Energy Blinds and Pleated blinds, offering a great selection of colour and designs. If you are unsure about colour and blind style we send our customers free swatches, so you can make sure you are 100% satisfied with the products you are ordering before they are delivered to your door!
Electric VELUX® Blinds
Say goodbye to standing on furniture and rearranging your room every time you need to open or close your blinds. Stop suffering with bright light and heat radiating through your hard to reach windows because you are unsure which blinds will do the best job. VELUX® electric blinds are high in quality and do all the hard work for you! Electrically operated your blinds can be controlled anywhere in the room at the push of a button on a remote.
Blackout Blinds, Roller Blinds and Energy Blinds are the three different blind types available if opting for Electric Blinds. These, much like the manual blinds, come in a wonderful range of colours and patterns, so you will have no problem finding a design to match your home décor.
Which blind is the best for your home? You decide!
You can order your perfect blind with Loft Blinds today by using our Blind Builder. If you have any questions about the VELUX®products we stock, contact us today!