Nov 28, 2018
Are Velux Venetian Blinds the Best Option for You?
Are you looking for a low maintenance roof blind? If so, Velux Venetian blinds could be the perfect loft window solution for you, and they are best for controlling the amount of sunlight you want entering your room too.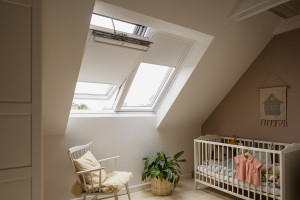 High Quality and Low Maintenance Blinds
As with all Velux products, you can expect great quality. Velux Venetian blind slats are made of aluminium which are lacquered on both sides, making them easy to wipe down and keep looking clean. These blinds are moisture resistant which means they are great for rooms with high humidity such as bathrooms and kitchens. They should also be considered for rooms that you want to easily adjust the amount of light coming in.
Simply Cordless
Say goodbye to unappealing hanging cords with the Velux Venetian blinds. These cordless blinds could not be easier to use. Simply position the blind by using the control bar (found at the bottom of your blind) or to control the direction and amount of light entering your room slide the grip in the right-hand side rail, which will tilt the slats on your blind.
The Blinds for You!
The simplicity of these blinds is what makes them a great and popular choice amongst customers. If you are looking for a blind that allows you to control the amount and direction of light filtering into your room, gives you privacy, easy maintenance and fits neatly in with your décor, then Velux Venetian blinds could be the perfect solution for your home.
Velux Venetian Blinds are available in 9 wonderful fade resistant colours, so you are sure to find the perfect match for your home décor. Check out all the colours available on our VELUX blinds builder and pick your perfect venetian blind today or call us on 01243 782580 for more information.