Pantone Colour of the Year 2019 Decor Inspiration
When Pantone announced the 2019 colour of the year 'Living Coral' the Loft Blind HQ were inspired! Every year people have their own opinion on the chosen colour, and this year we were not left disappointed.
It didn't take long before we saw Pinterest boards bursting with 'Living Coral' inspired imagery; so, we thought we would join in the colourful fun and give you some coral décor inspiration too.
The Beauty of Coral
Living Coral is a peachy orange colour with wonderful golden undertones which can be great to give your home a bright, yet warm pop of colour without being too harsh. This colour is fun whilst not being too loud and garish; this is the perfect colour for all those in 2019 who want to move from safe interior colours to something a little unique.
Feature Wall
If you are unapologetically unafraid of colour, then incorporating the delightful coral into your home as an accent wall will give any room the instant wow factor, while still having a cosy homely feel. Alternatively, if you are not ready for a block coloured coral feature wall there are stunning wall papers available with 'Living Coral' coloured inspired prints that will introduce colour into your home and impress any guest.
Furniture and Accessories
If you want to avoid painting and decorating but still desire a pop of coral in your living space, furniture and accessories is the perfect way to achieve this! Living Coral coloured sofas are a great stand out feature, however, if you are learning to love colour why not start small with throws, pillows, wall art or decorative items.
Blinds
Now for our favourite part… blinds. If you have been inspired by the 'Living Coral' trend and now need blinds to finish off the room, then we have got you covered. It might surprise you just how easy it is to incorporate other colours with your coral colour pallet; we have personally found it looks amazing with greys, greens and even shades of blue. At Loft Blinds, we have a range of wonderful blinds in a variety of colours and styles.
You can search all our colour and style range by using our Blind Builder. If you have any questions about our VELUX®products, contact us today!
Published: Jan 31, 2019
Are Velux Venetian Blinds the Best Option for You?
Are you looking for low maintenance Velux roof blinds? If so, Velux Venetian blinds could be the perfect solution for you, and they are best for controlling the amount of sunlight you want entering your room too.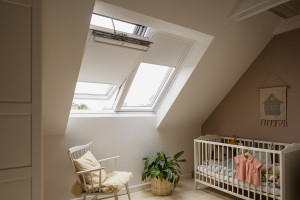 High Quality and Low Maintenance Blinds
As with all Velux products, you can expect great quality. Velux Venetian blind slats are made of aluminium which are lacquered on both sides, making them easy to wipe down and keep looking clean. These blinds are moisture resistant which means they are great for rooms with high humidity such as bathrooms and kitchens. They should also be considered for rooms that you want to easily adjust the amount of light coming in.
Simply Cordless
Say goodbye to unappealing hanging cords with the Velux Venetian blinds. These cordless blinds could not be easier to use. Simply position the blind by using the control bar (found at the bottom of your blind) or to control the direction and amount of light entering your room slide the grip in the right-hand side rail, which will tilt the slats on your blind.
The Blinds for You!
The simplicity of these blinds is what makes them a great and popular choice amongst customers. If you are looking for a blind that allows you to control the amount and direction of light filtering into your room, gives you privacy, easy maintenance and fits neatly in with your décor, then Velux Venetian blinds could be the perfect solution for your home.
Velux Venetian Blinds are available in 9 wonderful fade resistant colours, so you are sure to find the perfect match for your home décor. Check out all the colours available on our blind builder and pick your perfect venetian blind today or call us on 01243 782580 for more information.


Published: Nov 28, 2018
Manual VELUX® Blinds vs Electric VELUX® Blinds
It is the ultimate battle between the Manual VELUX® blinds and Electric VELUX® Blinds, both high quality blinds but what are their main differences (aside from one being electric) and who are they best for?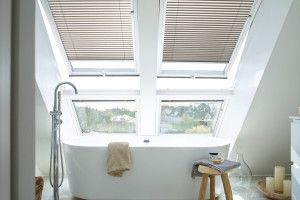 M
anual VELUX® Blinds
Ah, the manual blind, with hassle free installation thanks to the VELUX® Pick&Click!™ system and simple easy to use control bars, you can position your blinds with ease. The manual blinds are the best option for roof windows that are easy to reach; to operate you simply use the control bar positioned at the bottom of the blind to slide up and down.
We stock manual blinds in Blackout blinds, Roller Blinds, Energy Blinds and Pleated blinds, offering a great selection of colour and designs. If you are unsure about colour and blind style we send our customers free swatches, so you can make sure you are 100% satisfied with the products you are ordering before they are delivered to your door!
Electric VELUX® Blinds
Say goodbye to standing on furniture and rearranging your room every time you need to open or close your blinds. Stop suffering with bright light and heat radiating through your hard to reach windows because you are unsure which blinds will do the best job. VELUX® electric blinds are high in quality and do all the hard work for you! Electrically operated your blinds can be controlled anywhere in the room at the push of a button on a remote.
Blackout Blinds, Roller Blinds and Energy Blinds are the three different blind types available if opting for Electric Blinds. These, much like the manual blinds, come in a wonderful range of colours and patterns, so you will have no problem finding a design to match your home décor.
Which blind is the best for your home? You decide!
You can order your perfect blind with Loft Blinds today by using our Blind Builder. If you have any questions about the VELUX®products we stock, contact us today!
Published: Oct 30, 2018
The Benefits of Velux® Blackout Blinds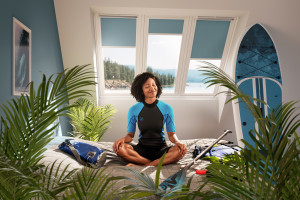 At Loft Blinds, we are proud stockists of Velux® Blackout Blinds. Blackout Blinds have qualities that make them the perfect option for any room in the home and they look stylish too.
In Need of Better Sleep?
Are you struggling to sleep? Sensitivity to light could be a reason why you are not getting the amount of slumber you need! Whether you need to block out car or street lights that are filtering through your window during the night, or if you are working the late shift and need to catch a few z's during the daytime, Velux® Blackout Blinds eliminate the light entering your room, so you can dream light free.
Privacy
Privacy is important in any home, and many choose to use Velux® Blackout Blinds in bedrooms, bathrooms and walk-in wardrobes for extra privacy. However, Velux® Blackout Blinds are also great for offices to block out the bright light reflecting off computer screens; they are great for rooms facing main roads or public walkways.
Great for Kids
As a child spends so much time in their bedroom, it is vital to make the room comfortable in terms of lighting and temperature. The bedroom is more than a place for your child to sleep, it's a room for playtime and homework too! Blocking out sunlight in a child's room with Velux® Blackout Blinds can encourage sleep and is perfect for nap time. Blackout Blinds not only block out the sunlight, they also control temperature in the room!
At Loft Blinds, we know the importance of Blinds that perform well and look great. Velux® Blackout Blinds come in a range of wonderful colours and patterns that can match your décor perfectly. We also stock Disney Blackout Blinds that feature your children's favourite characters, from Star Wars to Frozen; we have the perfect Blinds for you and your children!
If you are interested in ordering Velux® Blackout Blinds from Loft Blinds, please use our Blind Builder today! You can also contact us on 01243 782580 for more information.
Published: Sep 27, 2018
Great Reasons Why You Should Choose VELUX® Roller Blinds!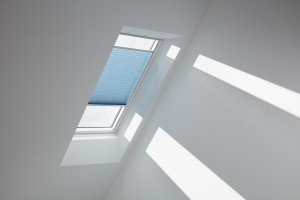 At Loft Blinds we are proud stockists of Velux® blind products. If you are in search of new blinds for your home but don't know what to choose, check out all the wonderful qualities that could make roller blinds a great option for you!
Simple and Stylish
VELUX® Roller blinds are one of the most popular blind choices for customers. They are simple, yet stylish and versatile. Offered in a range of colours and styles you are sure to find the perfect match to finish off your room.
Beautiful Lighting
VELUX® Roller blinds are made of 100% translucent polyester fabric that lets the beauty of natural light filter through to your room, while providing the privacy you need. Roller blinds do a brilliant job of glare control without eliminating all light from a room, making them a perfect option for offices and living rooms. However, it is important to note that the level of light blocked is dependent on the colour of blind you choose.
Easy to Clean
We all love low-maintenance household interiors! VELUX® Roller blinds can be cleaned with regular dusting; this is a simple way to keep your blinds looking clean and new. You can also vacuum the blinds using a brush attachment or delicately dab blinds with a damp cloth or sponge to keep them in tip top clean condition.
Easy to Fit
Hate DIY? If so, have no fear because with the Velux Pick and Click system, installing your Velux Roller Blind could not be easier! For more information check out our 'all you need to know about the VELUX Pick & Click System' blog post.
You can get the perfect Velux Roller Blind by using our Blind Builder. If you have any questions about Velux Roller Blinds or any other Velux products we stock, contact us today!
Published: Aug 23, 2018
All you need to know about the Velux Pick & Click System
We all want an easy installation process when it comes to household jobs. The Velux Pick & Click System makes blind installation a breeze, so you don't need to be a DIY expert to get great results.
Fitting your Velux window blind
Fitting your Velux blind with the pick and click method could not be easier! Start by simply securing the top of your new Velux blind into the pre-installed bracket that you will see on your Velux window.
After the top of your blind is installed, you can then secure side rails to either side of the window frame using the screws and brackets provided. Stress-free, beautiful blinds at the click of a bracket; saving you time and energy to enjoy your temperature and light controlled home with Velux!
Velux Windows with the Pick & Click System
No matter what style blind you have in mind, from Blackout to pleated, or Venetian to Roller, all these blind styles are pick & click ready!
Old Velux but not Forgotten
Do you have an old Velux window that doesn't have the pre-installed brackets? Have no fear, Velux still makes your blind installation process easy, providing extra brackets when you order your new blind. Brackets can be purchased as spare parts.
Get the perfect Velux blind by using our Blind Builder. If you have any questions or you are looking for more information on Velux products we stock, contact us today!
Published: Jul 16, 2018
Minimalism as a trend and your Loft Blinds
Minimalism is very much a trend with interior design and general house design. The trend has been around for a while but shows no signs of going anywhere at the moment. When investing the money into converting your loft you want the interior to be adapted to a trend that you like. The minimalistic trend is universal and can fit within any room. It can make a room look so much lighter and larger.
Minimalism is also known as a decluttering life style trend. Finding ways to de clutter your home by possibly hiding the mess in more of strategic way (I know it can sometimes be hard to let go of your possessions) as to keep your home looking fresh and light.
With even brands becoming minimalistic in their style the trend seems to be taking the world by storm!
Your loft is a space that you can adapt to how you want it to be. Having a loft conversion helps you satisfy the trends you want and create a space tailored to you.
With houses becoming so expensive it sometimes can be more ideal to expand your loft space into a room or rooms as to limit spending but give yourself more space. This is especially an idea when you think of expensive cities such as London. Getting a larger property can be extremely expensive so having the option of being able to have a loft conversion can be great!
Minimalism is particularly trending with millennials (18-35 year olds) as the neutral clean-cut colours and interior design can make houses look larger and lighter – with house prices risen this can extremely help with making your home look as large as you can.
Minimalism helps get rid of cluttered trends and busy shelves. To take place of these there are tidy clean spaces of floors and walls. The tasteful trend is functional as well as simple. You can strip back to basics making the focus point of your house the natural lighting bouncing off the neutral walls and floors.
Furniture becomes chosen on functionality, simplicity and it being an essential. With wanting to use the lighting to your advantage windows are great to utilise. Having loft blinds to go within your loft conversion are an essential and you can adapt these to match your exact trend including the minimalistic trend!
Loft blinds offers a blind builder to match your chosen colours through your house and having a range of styles, there will surely be one to match and reflect the trend you want within your house.
Take a look and choose your own blinds to bring in the light when you need and take it away at night time when you need your sleep!
Published: Mar 23, 2018
Wonderful new Disney blinds
Do your kids love Disney movies?
Is your youngster into cars?
Well here's your chance to be in their good books!
We are delighted to announce the introduction of a new range of Blackout blinds that are bound to delight the younger members of your household.
The benefit of using Blackout blinds for kids' rooms
Blackout out blinds are perfect to make that room nighttime, even when the sun starts to set later! Meaning you won't have to change your child's bedtime routine due to the sunlight hours changing. These blackout blinds can help you keep that bedtime routing consistent.
Disney decor
Incorporating Disney, and having your child's possible favourite Disney character on their blind, can also make bed time routines easier for you! Bringing a little bit of fun into the routine. What child doesn't want to look at Lightening McQueen before they shut their eyes?
Your child will be asking to go to bed so they can see their favourite Cars movie roll on over their window!
Adding aspects of a great Disney movie into the decor of their room can really make a child's room fun and complete it. Have a look below to see these wonderful new blinds and choose your favourite one!
All can be found in our blind selector page. Simply click on 'Manual Blackout' to see the full pallet of Disney favourites.
Published: Mar 8, 2018
Convert your loft, add value to your home and add living space!
Converting your loft can have a range of benefits.
Do you want to gain more living space from your home, while at the same time potentially increasing your property's worth? If your house isn't your forever home but you know you will be there for a while, then why not convert your loft? Investing in such a project can mean the end price you receive for your house increases due to the extra room(s).
If this is your forever home, why not use every space of your home? Enlarging space by converting areas, can help you extend the amount of room you have and make the interior of your home seem so much bigger!
Think of loft conversions as investing money in your home. According to Nationwide Building Society, loft conversions have the potential to increase your home's value by 21%. We, of course, recommend talking to your estate agent before this large decision as they will be able to offer advice regarding the exact value you can add.
But if you are not so focused on the adding value to your home and more about increasing living space, then a loft conversion is perfect! Is your family growing? Are you already settled and happy with the home you are in, but you need extra space? Then converting your loft can add these aspects and help you expand to accommodate for these things.
Exploring this more, there are other benefits to converting your loft. For starters, you can decorate from scratch to your exact wants and needs. Expanding your living space is great when you get to choose the exact interior. Choosing how it will look; down to the furniture, bedding and even curtains and blinds.
With interior trends changing all the time, it's great to have more living space that you can adapt to your interior preferences, and design to the trends you like.
Loft Blinds offers some great prints that would liven up your loft conversion. This is ideal if you want to keep the interior and wall paint neutral, but liven up the space using fabrics and prints. Alternatively, if you would like to tone down the room with some neutral blinds, we have some lovely coloured blinds to choose from!
By choosing the small aspects yourself, you can style your own home to your own style preferences! Use our Blind Builder to create exactly what you would like, and imagine how your loft conversion will look!
Published: Mar 6, 2018
HOW DO I FIND MY WINDOW CODE?



We find that customers are sometimes confused when it comes to locating and correctly reading their Velux window data plate. Here is a simple guide to assist.
If you have a centre-pivot window (GGL/GGU), open the window using the ventilation bar at the top of the sash and bring the sash down to eye level so that you are looking at the locking mechanism. The code can be found on a data plate on the right-hand side or the left-hand side of the locking mechanism.
Seeking out your Data Plate
However, you may have a top-hung window (opening handle at the bottom of the window), If that is the case, open the handle at the bottom of the window but do not push the sash outwards. Then open the window using the ventilation bar at the top of the sash and bring the sash down to eye level so that you are looking at the top edge. The code can be found on a data plate on the right or left-hand side of the locking mechanism.
Be sure to unlatch the lower handle first but keep closed
The data plate will vary dependant on the age of your window.
Data plate variants
Published: Feb 16, 2018
When do we need Velux Rods and adaptors?
If your window is out of reach and you want to fit a manual blind, you will need one adaptor for each blind.
The adaptor fits permanently to the operation handle of your blind. This gives your Velux rod a purchase and prevents damage to the blind when using your rod.
The Velux rod is also designed to open your window vent and window. It extends from 1m to 1.8m and can be extended to 2.8m when fitted with the 1m Rod Extension.
Extending Rod
Rod in Use
Adaptor
Rod Working With Adaptor
We sell the accessories that you need for your VELUX blinds so why not take a look?
Published: Feb 6, 2018
How do Velux Venetian blinds operate?
You normally associate Venetian blinds with cords, rods and toggles.
All dangling down, making a beautiful blind into a bit of a dog's dinner.
The same cannot be said for Velux Venetian blinds.
Through clever design, Velux have eliminated all that paraphernalia and replaced it with an elegant
solution... a slider!
Here we are to show you how it works:
Elegant with no cords

The control slider

Simply slide downward to close

And upwards to open!

We stock Manual Venetian Blinds, so why not take a look and see for yourself how easy they can be to use?
Published: Feb 1, 2018
Many Faces of Duo
We are often asked here at Loftblinds, "What are the key functions of the Duo Blind system?".
In brief, a VELUX® Duo Blackout Blind provides a combination of both a pleated blind and a blackout blind. These energy-efficient blinds enable total blackout and heat control. The main feature is vesatility. You can use the entire blackout blind, or all of the pleated blind, or you can have part of each showing.
As the old adage goes " A picture is worth a thousand words".
Here are four pictures that explain all!
Duo Blind Daytime Mode
Duo Blind Night Mode
Duo Blind Sunny Day Mode
Duo Blind Not Sure Mode
Published: Jan 12, 2018
Spring Clean Your Loft (Part 1)
How many rooms are there in your house then?
Go on, take a guess. And yes, you can count the hallway and landing. I'll grab a quick coffee and muffin whilst I'm waiting.
Done yet? Kitchen, living room, three to four bedrooms, a conservatory maybe? Say ten, eleven or maybe twelve rooms in total.
Bet you're surprised at just how many rooms you've got. I know someone who lives in a very nice, albeit modestly proportioned house. When I asked him that same question, he had to think about it, indeed, he literally ended up going through them one by one, ground floor first then the first floor.
"I can't believe it" he admitted after he'd done all of his workings out. "There are ten different rooms in my house".
But he was wrong. He does, infact, have twelve rooms in his home. Because he'd forgotten his lofts.
Easy to do. So easy infact, that I bet a fair few of you are now saying to yourselves pretty much the same thing.
"Oh yes, the loft. I forgot the loft".
Such is the lot of the loft, that great forgotten space in so many of our homes.
Dark, dusty, damp and forgotten. We probably see more of the ski slopes, Kasbahs and medieval cathedrals of the world than we do our lofts.
Sound familiar?
Well, maybe it's time for you to do something about it. Today.
You may, of course, have grand designs on your loft space. Its somewhere you've long talked about as being an extra bedroom, an office or study, a home cinema, a den for the kids. All of those things and more. And that's great, we salute your vision and ambition. Because the loft is a great underutilised resource, a quite literal waste of space. But listen. It's not going to become anything fast until you know exactly what's up there and what you've got in terms of space and potential. Because for as long as it's nothing more than a dumping ground for all the stuff you don't need, you're never going to do a thing about it and you're only ever going to poke your head above the hatch a couple of times a year (ie) to get the Christmas decorations down and, two or three weeks later, to put them back up there again.
What. A. Waste.
So come on. It's time to spring clean your loft. And we're going to suggest how you might want to go about it.
First and foremost, if it really is as neglected a space as I think it is, then you are going to have to get dirty. So no popping up with your dustpan and brush whilst you're wearing your everyday clothes. Because this is going to be dirty. Very dirty indeed.
So prepare yourself and dress for the occasion. You have absolutely no idea how much dust, fluff, mould and other grimy unspeakables are going to be stirred up once you start removing all the old bits of furniture, boxes, crates and numerous layers of loft insulation you have up there. So make sure you are protected. That means getting hold of decent FPP3 grade dust mask from any reputable hardware shop. And make sure its CE marked. And no, this isn't being over cautious. Inhaling too dust can easily give you a nasty respiratory infection, especially if the dust includes dried bird droppings. So with that in mind, get yourself some eye protectors as well. Plus some disposable overalls. If you get the white ones, you can guarantee that they will be a rather nasty shade of black once you're finished. Which might otherwise have been the colour of your favourite cashmere sweater. Or even the inside of your lungs. So don't be too cautious. Lofts, especially ones that have been neglected for a few years, can be absolutely filthy places. So look after yourself whilst you're up there.
You should also look out for flora and fauna whilst you're up there. I kid you not, if you leave that great cavernous space above your heads unattended for a few years then you are going to get visitors and they are either going to make themselves right at home and claim squatters rights or, worse than that, they are going to die in-situ, meaning you may have a few rotten corpses to remove. Look out for evidence of wasps, bees, moths, spiders and birds, especially with regards to this time of year, those that would rather like to nest in your loft, starlings being a prime example. If, on the other hand, you get bats up there, then there is nothing you can do about that other than report it to your local council. Once bats make themselves at home in your loft, you're going to find it very difficult indeed to shift them as they are a protected species which means you won't even be able to get up there to shift the great quantities of bat droppings they're going to gift you as part of their stay.
Now, assuming you've been able to fight off the starlings and put some ointment on all the wasp stings, what about all the stuff you've put up there, pre-loved and forgotten, those oh-so-precious keepsakes of life that are so special to you that you had no choice but to thrown them in a box a few years ago and dump them into a room full of pigeon shit, cobwebs and mould?
Yep, those love letters from a former love must have been special. Likewise your collection of old Marvel comics and the three boxes of videos that you swear you "might want to watch again one day".
Hey, and why not? Who can't get enough of watching Big Trouble In Little China again and again and again...?
So come on, be ruthless. If you took the time to pack it all away in boxes in the first place just so you could dump it all in the loft and forget about it, those things can't be that special, can they? Make a decision: can you live without it? Yes you can. So throw it all away. And that means you can't just move all the boxes from your loft to the garden shed or underneath a bed somewhere. Seize the day. Be brave. This is about reclaiming lost and wasted space, remember?
We're getting somewhere now, aren't we? You're dressed for the occasion, you're prepared for anything and you've decided, finally, that your household has no need for three spare Breville sandwich toasters, a pushchair with one wheel missing or your collection of Iron Maiden and Saxon albums.
I'm proud of you. You've beaten many obstacles to get this far so now, before the real hard work begins, you just have one step to make-which is making sure you've allowed for the size of the job in hand and the time it's going to take you. Is it a case of a bit of dust and grim, some added sweat and around half a dozen bin bags? Or might it be thirty, forty or even more? And are you going to be able to leave it all out for the bin men to take away on Thursday morning or is it a case of you taking several trips to your local dump? Or even hiring a skip?
Don't underestimate how much muck, filth and rubbish you might end up getting rid of. Remember, you won't have been the only person whose gone to pack away a bookcase full of books and thought that one large plastic crate would be more than sufficient for the job only to find out that you actually needed four.
Put it another way, there might not look like there is much up there. But that's because it's all scattered over a wide area. Once you get it all in one small space, well, things are going to look just a little bit mountainous.
So make like a scout. And be prepared.
But look, you've made a start. And, sooner rather than later, you're going to be able to reclaim all of that lost and wasted space up in the roof and make it your own again. What you can start to do with it once its empty is what we'll be covering here next.
Which is when things start to get just a little bit exciting. So keep reading...
Published: Mar 27, 2017
Keep Your Home Warm in the Winter
So, it's winter.
Don't deny it. Yes, there are still crazy men out there wearing shorts in that laissez-faire manner that says they are forever living their lives in the sunshine and that a little bit of frost never hurt anyone. Least of all them.
Secretly, of course, they're as cold as the proverbial witches you-know-what. But they can't give in to comfort and conformity now and slip on a nice cosy pair of cords. It's way too late for that. And them.
You, on the other hand want to stay warm. But you want to do so with a little style, a little, shall we say it, class?
I salute you and your covered legs. This blog is for you.
Keeping our homes warm and comfortable throughout the colder weather is a challenge for many people. Especially if their homes are poorly insulated.
And it's very easy to tell those which fall into that category. Just wait until we have some snow and then go and take a walk around your neighbourhood.
The poorly insulated homes will be the ones that 'boast' a bare roof. No snow, just a damp patch and some dripping water. Now, that might all look clean and tidy but in reality, it's a sign of just how much heat is pouring up, up and away from the house, melting all the snow on the roof as it does so.
The house that has a roof that is deep and crisp and even with the white stuff however. Now THAT'S a well-insulated house. Indeed, you can bet your last mince pie that its inhabitants will be sat in their shirt sleeves inside alongside a thermostat that is set to a healthy (and relatively frugal) 18-20 degrees or so.
Not like those in the house with the bare roof however. Their heating system will be on full blast and they'll be wondering why they're still cold.
The answer? Simple. Make sure your loft is insulated.
Insulating your loft is one of the most effective methods you can employ to give your home a good Energy Efficiency Rating (EPC-and yes, the acronym should be EER but it isn't!) and something you should always give a priority to if you have what is known as a 'virgin loft' (i.e.) one that has 25mm or less (and that includes none at all) of insulating.
Take it from us, the sooner you act on a loft that is either poorly insulated or, the horrors, has zero insulation, the sooner you will start to notice the savings on your energy bill.
Don't believe me? Keep reading then.
It's estimated that, without proper loft insulation as much as 25% of the heat generated in your house will be lost as it rises upwards and out via the loft and roof. But hey, at least the starlings on the chimney breast will be warm-and if that's all that matters to you then great!
But most people would rather run an energy efficient home and save on the bills.
Good loft insulation acts as a barrier. But it does it in two ways.
Firstly and, as we are explaining here, it slows the movement of heat out of the house during the winter. But also, almost as importantly, it slows that same movement of heat coming into your house during the summer.
It is then, in effect, a form of air conditioning for you that helps keep the house cool and comfortable.
Does that sound all a bit too good to be true? It gets better.
Because installing it is just about one of the easiest DIY jobs you can do in your house.
Don't know how to wire a plug or which end of a paintbrush is which? Fear not. This is something you can do for yourself.
Remember, in order for you to have a nice warm house, you are going to need to have a cold loft.
The best ones are those that, when you poke your head above the parapet cause you to take an involuntary breath of frigid air and say, "…bloody hell, this loft is cold". When you are able to say that my son, your job is done and done well.
Making your loft purposefully cold means laying insulation directly above the ceiling in order to produce this barrier to slow that upward movement of heat out of the home during the winter.
It isn't rocket science. Yet there are thousands and thousands of inadequately insulated homes all over the country with people living in them saying, "…it's a bit raw in here love".
95% of homes are insulated with wool insulation. Easy to obtain and, although a little bit bulky, fairly light and easy to carry-as in out of the store and into the back of your car (or a friends if you have one of those little cars that sounds like a hair drier) and then out of the back of the car, into your house and up the loft ladder.
You've got that far? Hurrah!
The part of the loft that you need to insulate is between the joists. They're the long and sticky out bits of wood that you have to walk on to avoid putting a foot through the ceiling when you go up there to get the Christmas decorations down.
See, you didn't even know what a 'joist' was when you started reading this. Now you can drop the word into casual conversation over coffee with your friends.
They'll be ever so impressed.
Mind you, it's all very well talking the talk. You've now got to walk the walk.
Most roof joists are around 100mm high. And guess what? You can get rolls of insulation that are 100mm thick (or less than that or greater, it depends on the height of your joists) which means you can roll them out, one at a time and in-between the joists.
Simple.
Then, once you've done that (and if you want to be so energy efficient, you need a cape and super hero name) you can roll out some insulation that is 200mm thick at right angles to the joists meaning that, when you're finished, you have a thick carpet-like layer of insulation in your loft that you can, if you wish, cover in sheets of MDF so that you have a surface that you can walk on-so no more hopping about from joist to joist for you.
It'll be a job well done. A loft that will, should a prospective buyer for your property poke his or her head up there greet with a satisfied nod of approval.
But remember. It's going to be a bit chilly up there. Infact, your loft may end up being so cold that you might, on occasion, find Bear Grylls doing a spot of arctic survival training up there.
Which would mean a job really well done.
Published: Jan 19, 2017
10 Decorating Moves of the Month
There's nothing like regarding your home as a Dalek would.
You know the score. Traverse it with steely eyes and an eye for every tiny detail whilst uttering those terrifying words as you go...
"Dec-or-ate...dec-or-ate. You. Will. Be. Dec-or-ated".
Frightening stuff isn't it?
Yet it needn't be.
Most of us turn a whiter shade of pale at the thought of doing some decorating. I know someone whose kitchen needs a lick of paint for example. It's a nice kitchen, light and contemporary with lots of new appliances. All that it needs to be finished is for a coat of paint to be applied to the walls.
And that was a few years ago. It's not even a day's work. Yet the person in question just cannot bring themselves to do it.
Ridiculous. But don't laugh too long or too loud. Because we've all been there.
Especially those of you with the bathroom that time forgot.
Well procrastinate no more. It's time to make a stand. A change even.
Here are ten ways you can make a big difference to any room in your house. And guess what? None of these will take less than a day to do. Simple, quick, effective and pain free.
So what are you waiting for?
It not only looks good and just a little bit Mediterranean, it also helps to discreetly mask any work that might be going on behind it. Give yourself a little privacy and secrecy where you can weave your culinary magic out of the sight of casual onlookers.
2. Make the most of your rugs.
If you've a big rug then placing all of a piece of furniture on it really sets it off both the rug and the furniture, creating a look that is warm and luxurious. However, if you have a really fine piece then don't cover it up with a sideboard. Let it stand alone, uninterrupted and glorious with furniture arranged around it rather than over it. Resisting that urge also gives a room a feeling of light and space, one where the eye is drawn to the beauty of the rug astride your floor, something which can be a great conversation piece in itself.
3. Mix and match your bedding.
Well why not? Having your sheets, duvet cover and pillow cases all the same colour might be practical. But practical is where it begins and ends. Do you really want cold practicality in your bedroom, what about some warm creativity? None of these items match-yet, put together it looks really quite charming, the sort of look you might have got in a New England hotel room back in the 1950's. Nowthat is classy.
4. Consider your bathroom.
Bright, clean, modern. State of the art even? Well here's a thing. How about mixing all of that up a bit by putting an antique piece in there? It's a spectacular juxtaposition of the old and the new-and another talking point. Who needs old copies of Cosmo in there when you can gaze upon a real piece of art?
5. Want intimacy?
How about moving your seating away from the walls? There isn't some archaic law that dictates that you have to push your expensive three piece suite up against the wall. Pull it inside the room a bit, go for a warmer, cosier look. Having people seated closer together also encourages conversation. Give it a go. You'll be surprised.
6. How about a swift and easy change of mood in your favourite room?
If the look of your bedroom has grown a bit tired of late, you'll be surprised at the impact a fresh colour of paint will have on both the room and its users! Try replacing safe magnolia with a vibrant blue or, for a calming and relaxing energy, a pastel green colour, aFeng Shui favourite with its calm and luxurious finish.
7. Completely change the look of a room in under half an hour.
Can't be done? Oh yes it can. And it's as simple as moving a few things around. This will cost you nothing at all and is the sort of fresh but simple approach that not only gives a room a fresh new look but might also encourage you to create some space by getting rid of some of the clutter that doesn't really work anymore.
8. Freshen up your old upholstery.
Can't afford to buy a new sofa (or, if you order one in July, be promised delivery "in time for Christmas"!)? Then why not freshen it up with some stylish throws or new cushions? If you're a fan of TV series Friends, you'll recall how Monica's rather ordinary looking sofa rarely looked the same in every programme? Large and bright cushions atop vibrant throws brought a relaxed and new look to it on several occasions, making the room both welcoming and cosy. The same principle can be applied to just about any piece of furniture that needs brightening up-beds, armchairs even tables which can be given a new look by covering them in either a bright piece of fabric or, for example, a collection of scented candles and bowls. There is no limit to your imagination so think simple but think big.
9. Hall of mirrors (sort of).
Strategically placed mirrors are a great way of adding space and light to a room, a cost effective and attractive way of adding those two great assets to any home. A mix of different styles of mirrors can bring space and personality to even the smallest and most modest of spaces-again, you and your imagination can wield some great results in the most simple manner, completely changing the look and mood of a room by simply opening your eyes to its possibilities.
10. Blinds, blinds, blinds!
Windows are great on sunny, warm days when they let light and warmth flood into a room. But what about at night or on a winters day when you'd rather shut the outside world out of your life and home? Fear not, for the humble window can come into its own yet again. By brightening it up with a colourful blind, you'll have made the minimal effort for a very high impact. If your windows are by Velux then there is a whole range of blind options for you throughout your home from colourful and fun roller blinds for a child's bedroom to simple and effective blackout blinds for your own bedroom that manage to block out all of the light even if they are in a light colour.

There are so many simple yet hugely effective ways of brightening up your home in this manner, one that is low on cost and time but high on impact with the only real investment that you'll need to make being the price you put on your imagination. And as that is completely unique, doesn't that make it rare and priceless?

Go on. Indulge on both yourself and your home today. Think simple but act big. And let us know how you get on, we'd love to know and share.





Published: Jun 25, 2016
Increasing the Value of Your Home
"Well at least it'll put the value of your house up".
We've all said it. We've all, more often than not, heard it said. It's a phrase that is used, almost as verbal compensation in return for some perceived inconvenience, temporary or permanent which, in the long term, is seen as at least giving us the reassurance of a theoretical increase in the value of our property. Cold comfort of course, if you've no intention whatsoever of moving but, even so, it just might give you a warm and cosy feeling inside when you do hear those few words uttered for your benefit.
Having your kitchen and bathroom ripped out and replaced with all the dusty carnage and intrusion that goes with it for several weeks ("We've just got to go and finish another job, then we'll come back and switch your water back on") or longer?
The 500 year old oak tree in your garden has toppled over, flattening your greenhouse in the process?
A couple of hundred new homes are being built in the nice green field that used to adjoin your property?
Radioactive Waste Disposal PLC are setting up their new storage facility in your town with the promise of two hundred new jobs-as well as the go-ahead for the construction of that hospital extension (surely a coincidence?) they've been wanting for decades?
Grumpy teenage son has, along with his guitar and several hundred black T-Shirts decamped to University digs for the duration, meaning you now have a large and empty spare room to do whatever you'd like to?
You can almost hear the sighs of envy and avarice from your friends and neighbours already.
"Well at least it'll put the value of your house up".
The truth of the matter is, of course, that the value of your home is unlikely to fluctuate that much, certainly in a upwards direction, from events that are either outside of your control or have been instigated else put into place by third parties. Sure, it can have an influence on the overall attraction of the area that you live in. But the actual property itself? That's more open to question.
But what isn't open to question are three steps that you can take that will add to the value of your home. Because, fundamentally, what matters the most to the buyer is the house itself not it's immediate surroundings. They do, of course, play a part in things, but are secondary to the main event. You are, after all, buying a house, not the nearby railway station, school, handy shops or a walk in the woods.
One of the most effective ways of adding to the value of your home is to convert your loft into living space. Adding a new bedroom and en-suite bathroom for example can add as much as 21% to the property value. On a simplistic level, that would mean a home valued at £300,000 seeing its possible sale price increase to around £363,000 whilst a house valued at half a million pounds might increase its overall worth by around £105,000.
And they're serious figures which, more often than not, may be well in excess of the price you initially pay out to have the work done.
And fear not, we'll be looking at all aspects of having your loft converted in a future series of blogs here.
One aspect of property investment that does seem to be on the increase is having an extension built. That could be anything from a conservatory to, in some older homes, converting what was once an old coal hole or shed into a an extra bedroom cum study for a son or daughter in need of both privacy and space to do their studies. Take a drive around your local neighbourhood at any time and, more often than not, you'll see a home or two with the obligatory scaffolding up and a pile of bricks taking up space in the garden. Untidy? Yes. Inconvenient? Yes. But only temporarily. The extra space and light that it will bring your home will be everlasting-that and the increase in its value of 11% that adding a bedroom will bring. Making any two bedroomed home into a three bedroomed one, or going up from three to four will not only improve your living space, its manna from heaven to an estate agent. So well worth considering.
If either of these options are out of your price range or, for that matter, the overall vision you have for your home, then what about just adding an extra bathroom? Most homes have at least two WC's now, it makes sense therefore, to have a separate bathroom for guests and one for yourself. After all, after our bedrooms, our bathrooms are the most personal and private spaces in our homes. And we don't, in general, let the rest of the world in there to make use of it and all the facilities therein, so how about giving our bathrooms the same consideration?
Adding a new bathroom –and it's surprising how easily and efficiently a good architect can find room where you thought there was none- can add around 5% to the value of your home as well as giving you a little more privacy into the bargain, a priceless commodity wherever and whoever you are.
Your home is almost certainly going to be the biggest investment that you ever make in your life. And, unlike money that you have in the bank, interest in it can and will be considerable and generous if you are able to make the right decisions with regard to both you and your home.
So don't just own your home. Love and cherish it. It is part of the family after all!
Published: Sep 15, 2015
How to Increase the Value of Your Home
House prices are always a hot topic in the UK. Whether you're in a studio flat in Southwark, or a mansion just outside Macclesfield, how much your property is worth, prices in the immediate area, and how viable the equity is are always on everyone's lips.
It's all too often that people around the country experience a major change in their lives - perhaps a relative coming to stay long-term, a new baby arriving, or priorities changing as they grow older. Too many people respond to these changes in circumstances by thinking, "Right, we need a bigger place, somewhere else, with more bedrooms, bathrooms, and facilities. Let's up sticks and move!"
What if there was another way?
Well, there is… Don't Move Out - Move Up! Our newest graphic will show you a whole host of hints, tips and tricks to add living space, increase market values, and save money on energy and repair bills - all while staying put in the comfort of your own home.
Find your area on the map. Extend your home to add living space, and fix it up to add energy efficiency and property value.
Property isn't just for investment - so why not enjoy it?
Published: Aug 25, 2015
New York Loft Spaces Come to London
Whenever most people think of a loft apartment, it's invariably the Big Apple that comes to mind.

Bright and spacious high in the sky living for the high flying. To rent or buy. Just don't go thinking they're the sort of places struggling artists or wannabee actors hang out because you'll need pockets as deep as the foundations that go with some of these in demand warehouses.

Because they don't come cheap. How, for example, does $4,200,000 for a 'spectacular full-floor duplex loft in the heart of Chelsea with outdoor space' sound?

'Outdoor space' in one of the world's most expensive areas of real estate? That's going to bump up the price considerably. But these City realtors are nothing if not reasonable. You only need a 10% deposit for this airy paradise.

Pie in the sky? Thought so. But there is some consolation.

If you can't stretch to something in Manhattan then how about Lambeth or Lewisham?

Because loft living is catching on in London. And faster than it takes to put up something that looks like a giant walkie-talkie and calling it modern living.

The idea of bringing New York loft-style living to London first caught on in the 1990's. There didn't seem to be a market at the time, indeed, there was seemingly no interest at all. Large and airy spaces at the top of dilapidated and largely forgotten old buildings were the rotting preserve of all manner of vermin; dank, dark dripping and foul.

But then a project was taken on at a disused print factory in Clerkenwell.

And everyone suddenly, and as if by magic, saw the light. Everyone, that is, apart from the Cities Estate Agents and Developers.

They just saw a nice new Jaguar in their driveway.

The not so new concept of open plan living with a nice view thrown in appealed to the creative set in the East End and, as a result, London started to love its abandoned loft spaces.

Much of the appeal was down to the new concept offered by property developers called 'Live/Work'. This describes properties whose space is designed to incorporate both your professional and personal lives, the former made possible by the rise of digital technology meaning that the need to travel from home to work five days a week, at least in the traditional sense, is slowly becoming obsolete.

Just think, your new commute might involve you grabbling a nice fresh Mocha from your kitchen and crossing the hallway into your home office.

As far as London was concerned, it was the Borough of Hackney that helped set the standard. It's reputation of being ran down and it's need of massive investment saw the local authority encourage the regeneration of former factories and other abandoned industrial spaces for such use rather than devoting time and resources to developments that were solely residential in nature.

Where a the visionary London Borough of Hackney led the way, other London Boroughs soon followed with the concept swiftly being copied in other major Cities across the UK.

So, even if a place in New York is beyond you and London an unlikely dream at present, no reason to give up. How about a converted wharf in Norwich for example?

There's no reason why you shouldn't have that rooftop space with a view if you're willing to stretch your boundaries. Which, let's face it, is better than stretching your wallet.

Published: Apr 28, 2015
How to Deal With Wasps in the Loft
Nasty: Have you ever had to deal with one of these in the loft?
Your loft might be a dark and largely forgotten place at the moment. And let's face it, if you only ever pop your head up there twice a year to either get or put back the Christmas decorations then its negligence of the very highest order.
But even if you don't fancy it up there, there are those that do. And the darker, the warmer, the more neglected it is, the better they like it.
I'm talking about your having a close encounter of the unwanted kind.
And right above your heads. They're live and they're potentially dangerous. And you've given them a home.
And it's fair to say you're probably going to regret being so hospitable.
I'm talking wasps.
We're all familiar with the little s.o.b's. How they like to annoy you when you're out in the garden. There's always one or two flying around when you're just trying to enjoy a Pimms and a chat with some friends. And no matter how much you manfully run away from the yellow and black demons, they'll lurk and come back for some more buzzing mayhem.
Again and again and again. And that's just a few of them.
What about if you had several thousand of them nesting in your loft?
With just the ceiling dividing you and a life of pain. Pain of the stinging kind.
Wasp infestation is a potentially troublesome problem from around May to November. A particularly troublesome one if you are allergic to their stings as anaphylactic shock from one can, in some cases, result in death.
If you do get a wasps nest in your loft then yes, do, by all means, admire its intricate beauty. Their beautifully crafted homes are, after all, one of nature's true wonders.
But you don't want to be getting to close to it for too long.
Wasps will instinctively attack anyone that ventures too near to their nest. And, unlike a bee, they can sting you more than once. The few that you notice near the entrance to the nest will be the sentries. Once they've stung you a few times, they'll go off in search of reinforcements. And believe me, you do not want to be in the immediate vicinity when they arrive.
Clearly, therefore, if you do notice that you have a wasps nest in your home then you need to do something about it and quickly.
Very quickly.
We're not going to tell you how to do that however. Because that's a job for the experts. And believe me, the chap in that photo isn't dressed like someone given the job of clearing up post-Chernobyl for nothing.
He knows what they're capable of when suitably provoked.
So don't provoke them. And it's rather easy to provoke a wasp. You can do so by merely looking at them in a funny way.
So think about what sticking an enquiring finger into a nest might do.
So, let someone else do it. Local councils will have their own pest removal teams. There will also be private contractors only too willing to put their heads where it hurts.
Just make sure it's their heads that go up in your loft to remove the yellow peril, not yours.
Published: Apr 10, 2015