Aug 23, 2018
Great Reasons Why You Should Choose VELUX® Roller Blinds!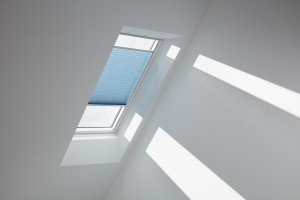 At Loft Blinds we are proud stockists of Velux® blind products. If you are in search of new blinds for your home but don't know what to choose, check out all the wonderful qualities that could make roller blinds a great option for you!
Simple and Stylish
VELUX® Roller blinds are one of the most popular blind choices for customers. They are simple, yet stylish and versatile. Offered in a range of colours and styles you are sure to find the perfect match to finish off your room.
Beautiful Lighting
VELUX® Roller blinds are made of 100% translucent polyester fabric that lets the beauty of natural light filter through to your room, while providing the privacy you need. Roller blinds do a brilliant job of glare control without eliminating all light from a room, making them a perfect option for offices and living rooms. However, it is important to note that the level of light blocked is dependent on the colour of blind you choose.
Easy to Clean
We all love low-maintenance household interiors! VELUX® Roller blinds can be cleaned with regular dusting; this is a simple way to keep your blinds looking clean and new. You can also vacuum the blinds using a brush attachment or delicately dab blinds with a damp cloth or sponge to keep them in tip top clean condition.
Easy to Fit
Hate DIY? If so, have no fear because with the Velux Pick and Click system, installing your Velux Roller Blind could not be easier! For more information check out our 'all you need to know about the VELUX Pick & Click System' blog post.
You can get the perfect Velux Roller Blind by using our Velux Blinds builder section, just add your window code and away you go. If you have any questions about Velux Roller Blinds or any other Velux products we stock, contact us today!